Walking tours in Nerja and Frigiliana
Nerja and Frigiliana are home to some of the most gorgeous views in Spain's Costa del Sol and are both famously known for their natural beauty. Guided walking tours are a great way to absorb the views of the mountains and the tropical landscapes whilst taking in the fresh Spanish air.
Frigiliana Tours offers a guided walking tour of the Old Town and provides you with an invaluable chance to learn about the area's deep history.
Visit the Museo Arqueológico de Frigiliana and discover more about Frigiliana from the Paleolithic age to the present day, walk past the El Ingenio shopping centre before you arrive at the Church of San Antonio de Padua where you can absorb its historic architecture.
As you will see from the video below, Frigiliana's countryside is perfect for hiking with its numerous landmarks, including San Antonio's Church, the Condes de Frigiliana Palace, the Chapel of Ecce Homo, Lízar Castle, Menhir and Phoenician necropolis. Be  sure to take back home some of the honey on sale at El Ingenio and, if you are visiting in August, make sure you take in the Festival of Three Cultures. During four days, Frigiliana homages the three main cultures, Christian, Arabic and Sephardic, that have been coexisting in the town for centuries, in the town's narrow streets and its marvellous central square. 
Walking and wine tasting… the perfect combination
Málaga Activa Tours is a local company that offers a wonderful small group hike and wine tasting tour around Frigiliana – a great way to immerse yourself in the Spanish countryside.
Wander through local villages and enjoy learning about the local way of life, see the Higuerón River and explore the Natural Park of Sierra Alhama, Tejeda and Almiiara. With plenty of opportunities to capture the views and take pictures, this easy hike is a great way to see more of what Frigiliana has to offer. And of course, tapas and wine tasting in an old cellar is an irresistible way to end your day and an experience that surely cannot be missed!
Part of the charm of the 'white villages' like Frigiliana is that seem still to be stuck in the past of Muslim origin. As well as the white walls, during your tours you will be exposed to  the steep labyrinthine and narrow streets, Moorish architecture, its many fountains and colorful pots. Frigiliana is one of the prettiest villages and the best preserved in all Andalucía.
After visiting the village we'll get a typical winery in Competa, another white village, where we'll taste one of the best local wines! Yet, we'll have a homemade andalusian lunch  included, local and healthy food.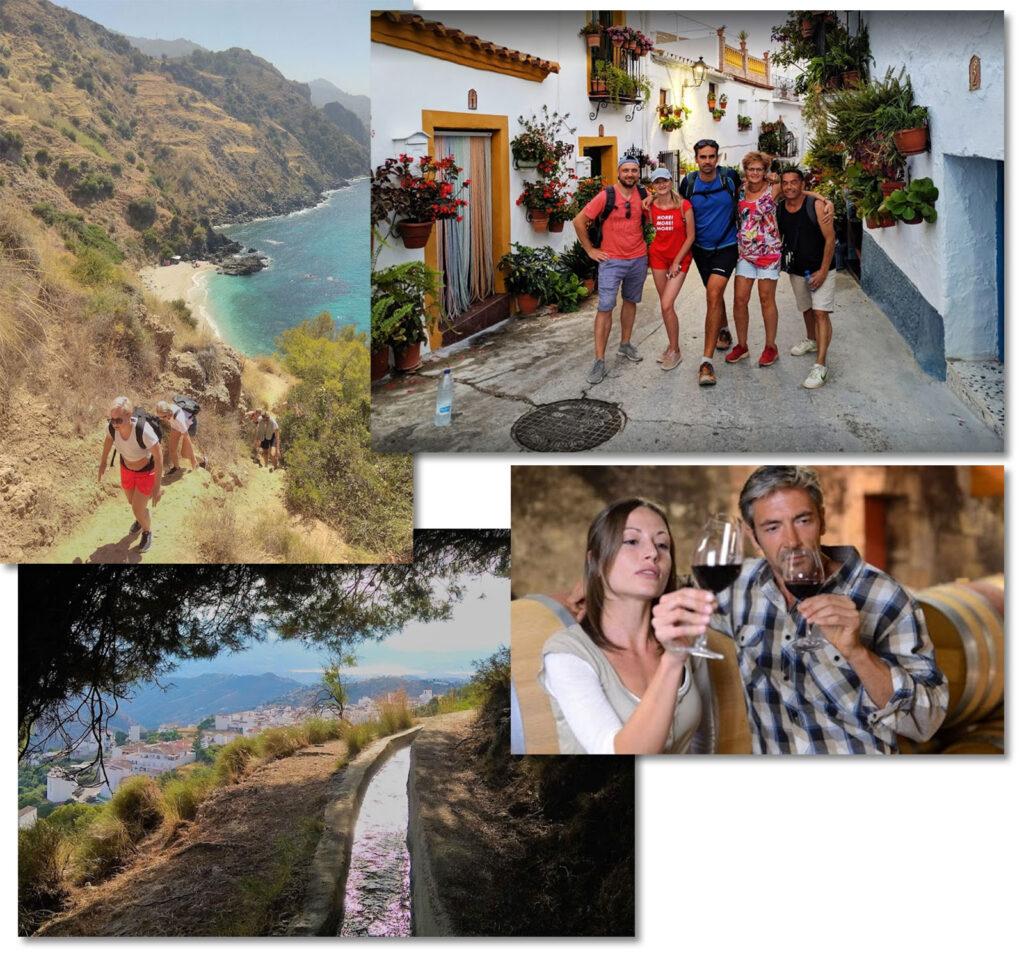 These tours, which take only an hour and a half and cost around €8 for two people, are a bargain and a great way to spend a morning or afternoon.
Frigiliana Wine Tours
Frigiliana Wine Tours offer guided and interpreted route by expert environmental guides, not just around Frigiliana but also taking in other traditional white Villages like El Acebuchal and Competa in 4×4 jeeps.
These tours may also include exciting adventures like crossing mountains and venturing into Nature Parks such as the Sierra Tejeda, Almijara and Alhama Park. These tours will make you feel truly at one with nature  but finishing the day visiting a winery in Competa and tasting the best wines from around the region.
Walking tours around Nerja
Nerja is a particularly unique place to hike – with the Andalucian mountains offering a stunning view of the town. The 3-hour hiking tour from Nerja to Frigliana, organised by Fitness Hiking Nerja, takes you to some of the most beautiful hiking spots and includes views of the Mediterranean Sea and the mountains of Almijaras.
The route crosses the Higuerón River that lies in the Chillar Valleyground and ends in the in the Frigiliana square where you can grab a tasty bite to eat and refuel! This tour is a great one for the family and is suitable for all abilities – from children and the elderly to experienced hikers alike.
These walking tours all offer the perfect opportunity to explore more of the Spanish views whilst learning about the area's history and diving into local life. With plenty of tours to choose from, you can be sure to find one that suits your needs and allows you to discover any areas you desire!
Are you looking for a spacious, luxury villa in Frigiliana? La Roca Rara is set in 2.5 acres of mature gardens, overlooking the hills and ocean. And it's completely secluded – the perfect escape!