A Spanish holiday…at last!
Book a late season stay in luxurious La Roca Rara and you won't be short of things to do…
Tucked away in the foothills west of Nerja, on the way to the picturesque village of Frigiliana, La Roca Rara is equidistant to both Nerja, with its fine beaches and relaxed nightlife, and the backdrop of Frigiliana's white painted buildings carved into the hills, La Roca Rara creates the perfect ingredients for a memorable holiday. And now that the rules on travel to Spain are due to be relaxed in early October you'll find there is so much to do, so many sights to see and so many events to enjoy.
WHAT ARE THE LATEST RULES ON TRAVEL TO NERJA?
The answer is yes. The government's traffic light system is changing on October 4th. See foot of page…
---
What's happening in October?
THE NERJA FAIR
8th to 12th October
A range of festivities during which there are processions, a festival of flamenco singing, folklore performances, carriages, typical verbenas and more. 4 or 5 days of eating, drinking, dancing and general enjoyment. It is still an event where it is considered quite important to 'be seen'. There are firework displays, processions, concerts and all sorts of activities.
The Nerja Feria always includes October 10th and October 12th, the Fiesta del Virgen del Pilar, the patron saint of the Guardia Civil and both days are holidays in Nerja.
Columbus Day falls on the last day of fair.
---
PIKNIK ELEKTRONIK BEACH PARTY

9th October
If you love a beach party and electronic music is your thing, this is a must. A great way to meet with friends or families in a warm and relaxed atmosphere. Piknik Elektronik is an event focused on the environment, recycling, zero waste and responsible consumption with traders selling local and fair trade products. Venue: The Beach Club Avenue del Peñoncillo, 29793 Torrox Costa, Málaga.
---
NERJA AND FRIGILIANA TOURS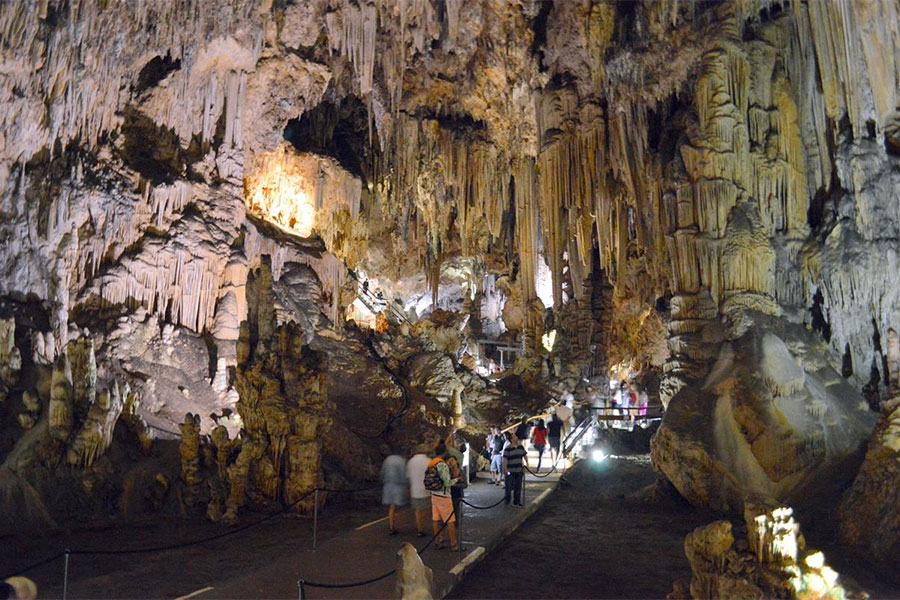 Visit Frigiliana and Nerja for a traditional taste of Andalusia. Learn about local history and culture and enjoy a day of wandering, exploring and some relaxation.
Begin your tour by heading to Frigiliana, a beautiful and typical Andalusian village. Once there, your guide will join you until you reach the main square. They will then give you some tips about what to see in this charming village. You will have some free time to enjoy Frigiliana and buy typical products of the region like pottery, fruits, vegetables, or the famous sweet wine.
Once you have sampled the delicacies of Frigiliana, depart for Nerja. Amble through small winding streets and take in the stunning views across the sea from Balcon de Europa. Enjoy a leisurely afternoon browsing local shops and soaking up the sunshine before we return to Torremolinos via the same route.
• Enjoy a day exploring Frigiliana and Nerja, two villages typical of Andalusia
• Wander through small winding streets and get a glimpse of local village life
• Enjoy stunning sea vistas from Balcon de Europa

Click here to find out more and for bookings
---
BUGGY OFF TO NERJA 
Come and enjoy a hugely adventurous trip through the beautiful mountains of the Axarquía and its many coastal roads.
With these powerful 500cc buggies you can discover the beautiful countryside of the Nerja area, take in the traditional Spanish atmosphere with spectacular style and have the most amazing fun with family and friends of all ages.
This tour is a special way to discover the Andalusian landscape in a vehicle. Venture out on your own or share a double seat buggy, and drive along the endless roads of the Axarquía area, taking in its incredible scenery. The ultimate adventure, you even cross rivers and reach places you have never discovered. 
Note: You will need to bring your driver's licence.

Click here to find out more and for bookings
---
KAYAK-TIVITIES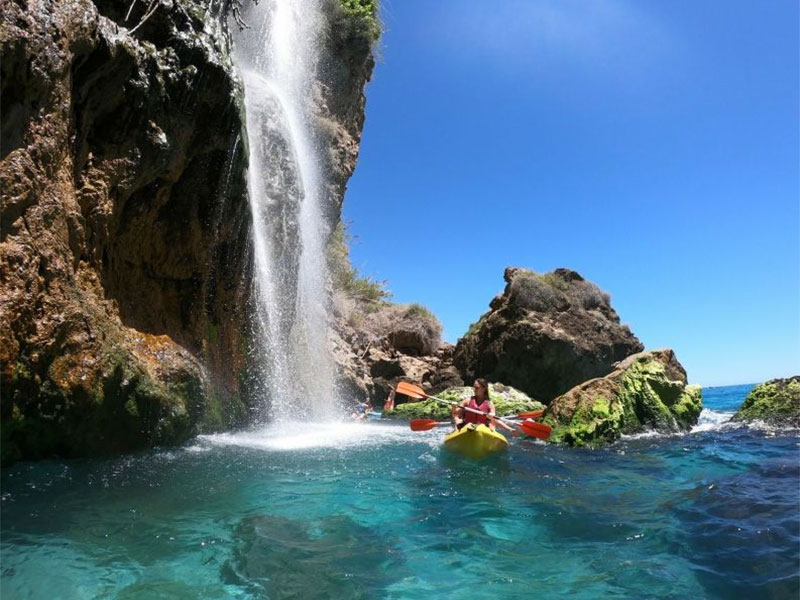 Discover the magnificent cliffs of Nerja from the sea. Follow a guide on a kayak route and see the landscape from a unique point of view.
Choose a double or individual kayak and set off from Burriana Beach. Head towards Cascada de Maro and go past local points of interest. You'll get to see many small cliffs and bays that are inaccessible from land. Listen as the guide teaches you about elements of the landscape. Take a break from paddling and swim in the clear water Learn the basic techniques of paddling a kayak as well as important safety considerations. Throughout the tour, photos and videos are recorded on a GoPro camera.
• Access small caves, cliffs and bays inaccessible by land
• Swim in crystal clear waters
• Discover the cliffs and caves from a kayak

Click here to find out more and for bookings
---
SO MANY ACTIVITIES TO ENJOY…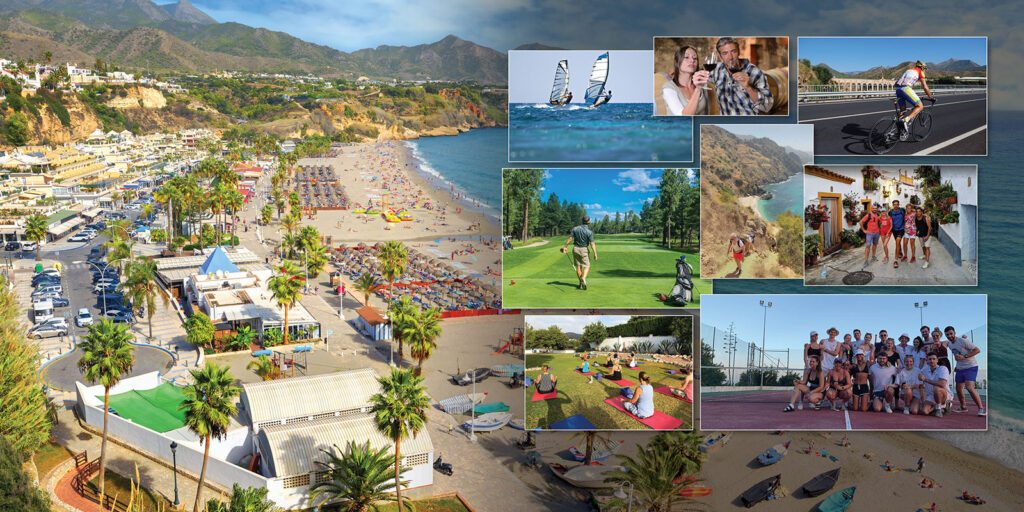 La Roca Rara creates the perfect ingredients for a memorable holiday, and the ideal base from which to venture out for any number of activities. As well as being able to enjoy our own large private pool and floodlit tennis court, sports enthusiasts can enjoy anything from paragliding to pedaloes, walking tours (with wine tasting) to wind surfing, jet skiing, horse riding, golf, swimming in the Mediterranean to skiing in the mountains at Sierra Nevada.
Click here to read more about WALKING TOURS IN NERJA AND FRIGILIANA
---
CAN WE NOW TRAVEL TO SPAIN?
QUOTATION FROM CONDE NASTE TRAVELLER, SEPTEMBER 2021
The government's traffic light system is changing, with the green list and amber list to be merged to form one list of destinations considered 'clear' for travel. Since Monday 17 May leisure travel from England has not been illegal, meaning residents are legally allowed to take holidays providing they follow the travel restrictions for their destination.
But what does this mean for holidays to Spain, and are British travellers allowed to enter?
Here's what you need to know about visiting one of Europe's most popular destinations:
Is Spain on the amber list? Before Monday 4 October, Spain is still on the amber list. Until then, those who have not had two vaccinations more than 14 days previously have to take one pre-departure test and confirm a negative result; quarantine at home for 10 days upon return to England; plus complete a passenger locator form with details of where you will quarantine and the booking reference number for the tests you must pre-book and take upon your return – PCR tests will be required on days two and eight of quarantine (reduced to day five by paying for the cost of an extra test on that day, if it's negative – though this option is not available in Northern Ireland).
ABIGAIL MALBON, CONDE NASTE TRAVELLER, SEPTEMBER 2021
---