Your own luxury tennis holiday
Not only is La Roca Rara a luxurious and comfortable place for a large group of friends and family to stay (we can accommodate up to 18 people sharing), but it also houses many other great features, including its own floodlit tennis court – perfect for game play both day and night.
If you and your friends and/or fellow tennis club members are keen tennis players, La Roca Rara is perfect for you. Whether you want to have a quick tennis break in between sunbathing, or organise a stay full of mini tournaments, our court will provide you with the freedom to have a game (or two or three) whenever you like and is the perfect way to stay active during your holiday!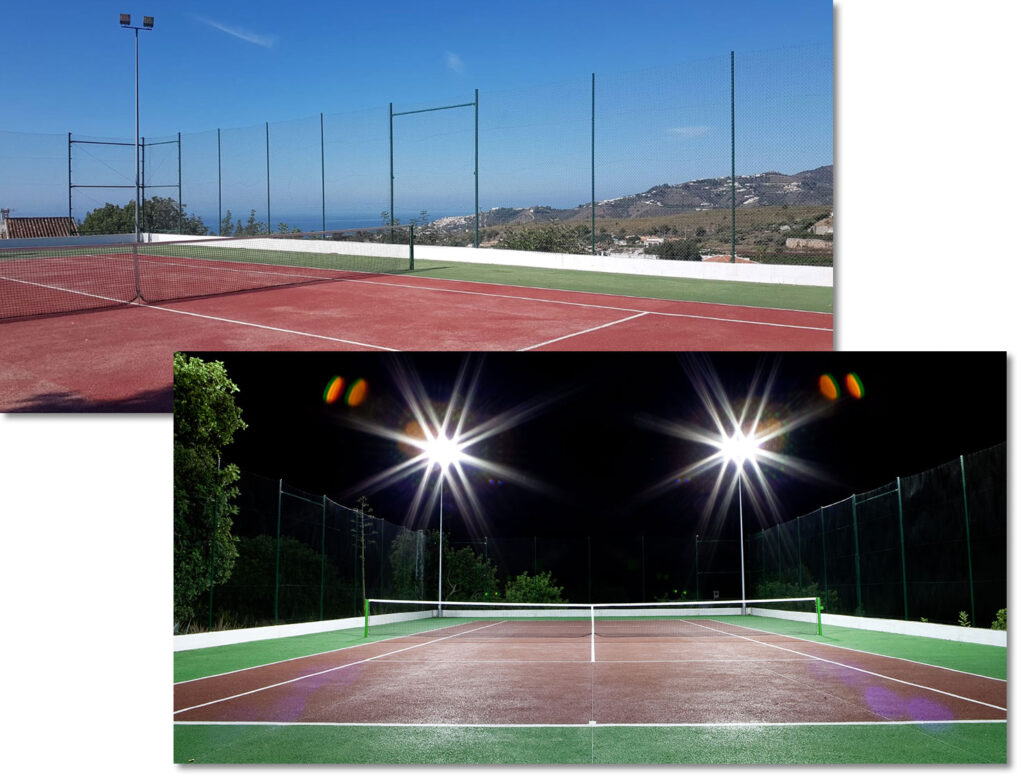 A superior court… with an unbeatable view!
Our recently resurfaced hard court and the sturdy, professional quality net, is always kept in good condition and regularly attended to by our on-site management team. Hard courts are amongst the most popular surfaces as they generally give a good even and 'all round' playing experience and offers more consistency than other outdoor surfaces. It is the ideal surface if you are in a group of mixed ability. Although the speed of play on all courts can depend on the climate and prevailing weather conditions, hard courts are generally faster than clay, but not as fast as grass.
However, our regular tennis-playing visitors are more likely to comment on the one advantage we have over just about every other court you will ever have played on … the view!

Local tennis club and other sports facilities
Alternatively, you and your friends can be booked in to play at our local tennis club, La Raqueta, and enjoy the beautiful Nerja views at the same time. A day at this club will provide you with access to 3 tennis courts and spacious changing rooms as well as their coffee shop, bar and restaurant.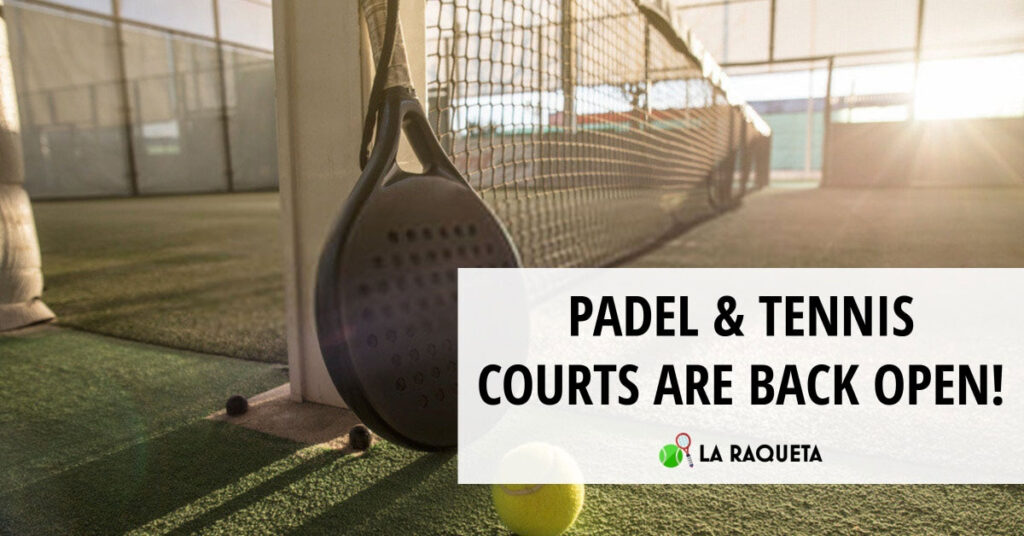 At Raqueta you could also enjoy a game of Padel. Padel is a racquet sport similar to tennis but typically played in doubles on an enclosed court roughly 25% smaller than the size of a tennis court. Scoring is the same as normal tennis and the balls used are similar but with a little less pressure.
There are many other sporting options locally – from walking and cycling tours to climbing and a plethora of water sports. The picture-perfect beaches of Nerja are just a short ten minute walk or even quicker taxi ride from the villa, where you can have enjoy a dip in the sea and, if you're feeling like adding some thrills to your day, have some fun with various water sports – including parasailing, jet skiing, and water skiing.
Luxury accommodation and facilities
When you have finished your games, you can spend your days and evenings relaxing by, and swimming in, our large private heated swimming pool, perfect for a quick dip in the sun or to get some lengths in.
La Roca Rara can organise fresh food and drink throughout your holiday, so you can relax in the sun before enjoying a meal on the terrace or refuel in between activities – whether you fancy a traditional paella, a quick sandwich, or a simple salad in the sun, we have it covered.
We can also provide with the perfect tipple for your meal whether it be beer, wine, or Cava!
We can guarantee that you will love your tennis holiday to Nerja and will never tire of exploring all there is to do – both within the La Roca Rara grounds and in the local area.
What's included in your luxury tennis holiday:
Superior standard, well-maintained concrete court with clear markings and quality nets
Play as often as you like by day or evening, under the floodlights
Tennis coaching available by prior arrangement
Luxury accommodation and facilities
Catering for breakfast, lunch and evening meals by arrangement
Beer, wine and Cava available from our regularly restocked cellar

2

4 hour tea/coffee/soft drinks, fresh juice and fruit
Some basic rackets and balls are provided, but most visitors prefer to bring your own
Are you looking for a spacious, luxury villa in Frigiliana? La Roca Rara is set in 2.5 acres of mature gardens, overlooking the hills and ocean. And it's completely secluded – the perfect escape!